Image thanks to: Jack Mohr Photography
Image thanks to: Tourism Tasmania & Jonathan Wherrett
Image thanks to: Jack Mohr Photography
Image thanks to: Tourism Tasmania & Nick Osborne
Image thanks to: Tourism Tasmania & Kathryn Leahy
Aside the rocky cliffs, along the Tasman Sea, sits a sprawling complex of stone walls and remnants of 30 historic 18th and 19th-century buildings, spattered amidst a pastoral green space which belies its dark past. Preserved as a testament to days gone by when Australia was far from an Instagram-worthy travel destination, Port Arthur UNESCO World Heritage Site is a must see for both its historical value and spectacular location.
Being banished to Port Arthur in 1837 required a conviction of the court for any number of crimes of the day, including petty crime, juvenile delinquency, political unrest, violence and even fabricated offences thereby sentencing one to a life of hardship as penance and as benefit to the British Empire's expanding workforce.
Port Arthur was not on anyone's travel itinerary. Originally a granary and dockyard, Port Arthur held many secrets as inmates suffered various forms of torture and submission. Although education and religious instruction were a focal point, most prisoners were subjected to long hours of isolation combined with harsh and punishing treatment. In fact, even at their mandatory religious services they were seated in separated pews, so as not to encourage additional human contact. What went on here in daily prison life is detailed in the onsite Complex Museum, as well as in the interesting Interpretive Center to help you understand the significance of this Tasmanian site to Australia's past.
Imagine a place similar to the famed Alcatraz; a foreboding and harsh monster of an incarceration facility for hardened criminals doomed to die in lonely and painful circumstances. Like Alcatraz, Port Arthur had these hardened souls, the maximum security types, the unrepentant ones, the incorrigible, but also, unlike modern day prisons, were the mentally impaired, the political resistors and even the poorly educated unfortunate outcasts enlisted for the benefit of their physical strength in order to provide skilled and unskilled labor for government expansion and monetary gain. Capitalizing on free labor was the main objective and a convict could expect to be at Port Arthur for the term of his natural life. Women were also housed here, separately, but their incarceration came with different rules, routines, harassment and shames. The masters of both their fates lived in luxury of sorts, eating, drinking and otherwise insensitive to the effect and impact which they had on others not so privileged there. Image thanks to: Tourism Tasmania & Port Arthur Historic Site Management Authority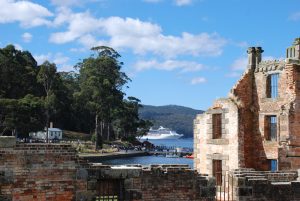 What you may not expect for a place with such history, is the serenity of the outdoors here and the sense of quiet reflection. Many visitors enjoy staying in the area for more than a day to explore the coastline cliff walks, lawns, gardens and seaside views. These days, Port Arthur is a popular place, located just an hour's drive from Hobart. If weather permits, then take the ferry across and be awed by the rising towers of rock embracing the coastline.
Extensive hiking trails, lookout areas, convict-built stone walls and natural wonders such as the Remarkable Cave, are also attractions. A short boat ride to the Isle of the Dead as the original convict cemetery is included with most guided tours. Port Puer, the historic location of the old boy's prison, can be seen from Carnarvon Bay on tour boats passing the dockyards as well.
A highlight not to miss is the Lavender Farm; a truly delightful retreat in your day, rich with the aroma of relaxing lavender where in the adjoining cafe you may take a delicious break, enjoying lavender-graced hot and cold drinks, cakes and menu items designed to lure the senses. There is also a lovely gift shop where you can purchase lavender-themed souvenirs such as decorative items, soaps and lotions, candy and other all-things-lavender. Later, if you are an avid fan of ghost stories and don't have very small children or companions afraid of the dark, there is the entertaining, lantern-led, evening Ghost Tour. It's another aspect of the gloomy past here, a unique perspective of the British Empire's most storied penal settlement. You most certainly will be drawn into another world where walls can speak of suffering and punishments which didn't always fit the crime.
These are just a few of the many things to see and do in Port Arthur where lasting impressions evoke a well-preserved glimpse of a long ago era that essentially shaped the Australia of today. Image thanks to: Supplied Courtesy of Port Arthur Historic Site
When you go, here are a few tips to help maximize your visit:
There are many tour operators who will package your trip to Port Arthur, either for a guided day trip or a few day's stay over, which includes transportation and lodging if you choose. On your own, you can reach Port Arthur by car, van or motorbike. There are also regularly scheduled ferry services from Hobart with narration on board as you traverse the sea en-route to Port Arthur, which is 1.5 hour's drive on the Arthur Highway from the capital. This means a trip to this historic site can be done as a day trip (with plenty of things to see and do around the area), or you can make a weekend out of it!
Site entry tickets are valid for 2 consecutive days and include an Introductory Guided Walking Tour, Harbour Cruise, access to the Museum, Convict Study Center and Interpretation Gallery and the site of the Dockyard. Image thanks to: Supplied Courtesy of Port Arthur Historic Site.
December to February are warm and blooming with life. Flowers and greenery are at their best during this time in Port Arthur. Due to its location by the sea, it is always breezy with fresh sea air, pleasant and beautiful for sightseeing. Comfortable walking shoes are a must, as the area spans over 100 acres, criss-crossed by many trails with sometimes uneven terrain. Rainy days may be from May to November, so pack accordingly. Layers are also a good idea when traveling over by ferry or for evening walks. As much of the site is without cover, it's a good idea to be ready for any sprinkle or chill. There are many different buildings to visit at the site. Image thanks to: Tourism Tasmania & Andrew Ross.
The location is popular for relaxed overnight stays and peacefully quiet lodging places which cater to guest comfort, reflecting renowned Australian hospitality. Facilities are family-oriented, and there are handicap accessible facilities and most are pet friendly if you ask ahead. Restaurants here also reflect the taste of Australia, serving wines from nearby mainland vineyards, farm-raised meats, fresh produce, delicious seafood and dishes made with locally sourced ingredients. You may choose from relaxed and casual or fine dining options here in Port Arthur. There are also many choice spots for picnicking a packed lunch. Image thanks to: Tourism Tasmania & Poon Wai Nang.
Hiking trails abound and are popular with many who come to experience the nature here along the coast. Pirate's Bay Lookout is a favourite spot for photography buffs. If you have children or just adore animals, take a trip to the nearby Unzoo to see Tasmanian Devils--the famed Australian characters of cartoons and local tales--in their own habitat.
Back in Hobart, attend a wine tasting event, visit the teaming Twilight Market, shop for handicrafts, listen to live music and enjoy the vibe of city life as the locals do. Day or night, there are a variety of places to enjoy whatever your taste may be.
Port Arthur is more than just a historic and eerily enchanting place to visit though--located on the coast of the Tasman Peninsula as it is, nature walks along the rugged cliffside are a must-do. Explorers will love the aptly named Remarkable Cave, with its spectacular scenery; just take note that a certain degree of fitness is required to climb the many stairs that were built to reach it.
Fortescue Bay, with its white-sand beach and heavily forested hills, is a popular jumping off point for bushwalks, kayaking adventures, and diving--and if you want to stick around, Banksia campground offers 24 shaded campsites. For jaw-dropping views, hike around Cape Raoul--a comfortable 5-hour walk--to really take in the beauty of the Tasman Peninsula, as well as Bruny Island. Less popular, but equally beautiful, Waterfall Bay offers another pleasant, easy-grade walk with views of Tasman Island and a vast expanse of ocean.
Within Tasman National Park, visitors can check out Tasmans Arch, a natural bridge built by Mother Nature into the seaside cliffs, and Devil's Kitchen--a deep trench carved by the Tasman Sea herself, from a coastal overlook. Speaking of amazing views, the view from Pirates Bay is one of Tassie's best, offering a view of not only the bay, but the township and rocky coastline that lay just beyond it. Pirates Bay Drive is a popular alternative, or scenic route if you will (just a few minutes longer than the direct route), to Eaglehawk Neck.
This small town, affectionately nicknamed "The Neck" by locals, is a narrow 400-metre-long land connection between the Tasman Peninsula and the Forestier Peninsula. This thin strip of land was once guarded by the "Dog Line", which is pretty much what it implies: a group of dogs chained together, preventing convicts from escaping Port Arthur's notorious prison site. A sculpture now commemorates this once vicious barricade.
Visitors will also discover a fair share of oyster shacks, where they can sample the local tasty delights along with a nice Tassie wine. To delve further into local produce, visit a farm gate, where fresh produce abounds far and wide. Chocoholics can get their fix here too: Port Arthur is home to local chocolate shops--The Federation Chocolate Factory being the first on most lists-- that are renowned for their high-quality, melt-in-your-mouth products.
These are just a few of the many things to see and experience on a trip to Port Arthur. Your visit will be sure to leave a lasting impression as it evokes a well-preserved glimpse of a long ago era that began to shape the destiny of today's Australia in profound ways. Image thanks to: Paul Hoelen.
Popular Packages and Tours
Port Arthur - Where to Stay
Let us PLAN or QUOTE your ideal Tasmanian holiday...