Three Capes 3 Day Walk
3 days - Guided Walk Package
Day 1
Your day will begin at the Hotel Grand Chancellor in Hobart, where you will depart for your three day escape and travel out to the Tasman National Park at 8:00am. The geographically isolated peninsula, has over one third of Tasmania's recorded plant species including more than 60 that are threatened species.
Walk uphill through eucalyptus trees and banksia scrub to Cape Raoul which presents excellent views of Tasman Island, the Southern Capes and Bruny Island. You may even see the seal colony at the base of Cape Raoul.
After the day's walk it is time to head to Stewart's Bay Lodge for the night, where you will stay in a two bedroom Deluxe Spa Chalet. Tonight's dinning experience is at the 1830's Restaurant, providing delicious local produce and wines.
Day 2
After breakfast it is time to head to the stunning Waterfall Bay to see some of the peninsulas most impressive geological features. Waterfall Bay hosts an amazing 200 metre waterfall that plunges straight into the sea. Continuing on from Waterfall Bay, it is time to climb 548 metres through stringy bark forests, to Tatnels Hill, this is the highest point of the track. From here the trail gently winds downhill and with many habitats situated within the National Park, it is a great place to see a variety of wildlife from possum and long nosed potoroo to eastern quoll and wombats. Stewart's Bay Lodge is the accommodation for tonight again, but dinner will be served at Gabriel's Restaurant which overlooks the bay. Dinner will again be featuring beautiful Tasmanian produce and wines.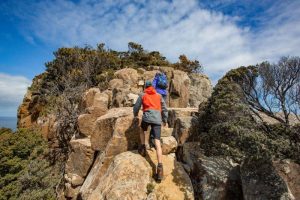 Day 3
It is your last day and after breakfast it is time to farewell Stewart Bay and venture off to Fortescue Bay for the last section of the hike. Walking through forest and coastal shrub we reach Cape Hauy, where you will view spectacular sea stacks, known as Totem Pole, The Candlestick and The Lanterns.
Afterwards there is the option to see Cape Pillar by joining a helicopter flight or wilderness cruise.
For those who join the helicopter flight, after the morning walk to Cape Hauy, your guides will drive you to the famous Lavender Farm where you can enjoy a delicious lunch. Afterwards a helicopter will take you on a flight over the cliffs of Cape Pillar, Cape Hauy and the remote Tasman Island with it's exposed lighthous. Subject to a minimum of 4 guests.
Alternatively those who choose the wilderness cruise will be able to board the cruise boat after the morning walk and enjoy a packed lunch before boarding. The cruise provides amazing low level views of the Three Capes and its dolerite sea stacks.
Afterwards the groups will come back together for the return journey to Hobart. Drop off at Hobart airport is available enroute to Hobart.