Image thanks to: Tourism Tasmania & Peter Aitchison
Image thanks to: Peter Topliss
Image thanks to: Alastair Bett
Image thanks to: Roaring 40's Kayaks
Image thanks to: Cascade Brewery Co. Hobart
Image thanks to: Mitch Osborne
Image thanks to: Nick Osborne
Image thanks to: Adam Gibson
Image thanks to: Tourism Tasmania & Geoff Murray
Image thanks to: Tourism Tasmania & Hobart City Council
Image thanks to: Tourism Tasmania & Nigel Honey
Image thanks to: TAS Hobart_Day01_01 - Jack Mohr -_MG_0383
Image thanks to: Farm Gate Market
Image thanks to: Tourism Tasmania & Nick Osborne
Image thanks to: Tourism Tasmania & Rob Burnett
Image thanks to: Mawsons-Huts-Replica-Museum-Dale-Baldwin-131197-1024x684
Image thanks to: Tasmanian-Museum-and-Art-Gallery-Tourism-Tasmania-Rob-Burnett-126651
Tasmania's lively capital retains an old town salty-air feel that draws visitors flocking here in numbers not seen before.  This vibrant city offers plenty of urban sites, as well as proximity to gorgeous natural surroundings and a mountain summit. What began as a penal colony in 1804 is now a hot tourist destination.
Sitting at the southern end of the island, on the edge of the River Derwent, Hobart is a port town that dates back to early explorers and convicts. Nowadays, it's home to the finish line of one of the world's greatest blue water ocean races, The Rolex Sydney to Hobart. Image: Hobart Harbor
There's so much in Hobart for the curious visitor. Whether you're a foodie, history buff, or looking to hop on a ferry to MONA, a museum that's reinvented what museums are all about, then Hobart is for you.
More and more visitors are coming to Hobart simply for the world class cuisine and award-winning beverages, such as whisky, cider, craft beer, wine, gin, or vodka. They also know that the produce is so fresh their oysters are literally still dripping with the salty waters they were plucked from that morning. Eating and drinking in Tasmania is about sitting in a vineyard in front of the vines and talking to the winemaker with a dog by their side. You won't just meet the label's name, you'll meet their pet pup too.  Thanks for the image Tourism Tasmania & Nigel Honey (Lunch at Hobart Harbor).
The great outdoors is within easy view of Hobart's downtown. You'll feel the ever-present being and shadows cast by Kunanyi/Mount Wellington, and d
on't be distracted if a platypus raises its head nearby to Cascade Brewery. Those seeking adrenaline-style adventure will have plenty of tours to choose from to get their thrill of the day.
But it's not just the mountain. Adventure-seekers can set sail, literally hop on a former Sydney to Hobart yacht for an afternoon sojourn around Bruny Island by simply wandering out on a city pier. The options are seemingly endless! Image Credit: Peter Topliss (View of Hobart from Mt Wellington/Kunanyi Lookout)
What makes shopping here such a treat is the one-off designers and the independent stores tucked away across the city. The weekend markets are also filled with locally made items and are not to be missed. Image credit: Nick Osborne (Shopping in Hobart)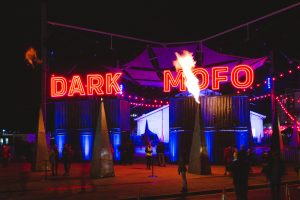 • Come for Dark Mofo, held during mid-winter each year in Hobart. It's reshaped how locals and visitors experience our winter. Image credit: Adam Gibson (Dark Mofo)
• If you love wildlife there's some excellent opportunities with wildlife parks on the outskirts of Hobart.
• Hobart kicks in to a new gear around Christmas and New Year. The Sydney to Hobart yachts are making their way in, pro musicians are strumming, the Taste Festival is buzzing and buskers fill street corners with all manner of tunes.
• For those who like a dip at the beach, head for Seven Mile or Bellerive Beach and grab some fish and chips. For the surfers, there's Clifton and Park Beach that provide great waves.
People Who Looked At This Also Viewed...