7 Day Luxury Getaway
7 days - Luxury Tour Package
Day 1 - Launceston Arrival - Cradle Mountain
Meet your guide at Launceston airport and journey to UNESCO World Heritage listed Cradle Mountain National Park. Enjoy an introduction to this fascinating alpine environment and then embark on a scenic helicopter flight to see Cradle Mountain and Dove Lake from a unique perspective. Experience breathtaking views of Tasmania's rare natural treasures, and appreciate the stunning beauty of this ancient landscape. Relax and unwind at your premium lodge accommodation.
Accommodation: Cradle Mountain Lodge
Meals: Lunch
Day 2 - Cradle Mountain National Park
Your guide will introduce you to the many endemic fauna and flora species of the region whilst enjoying picturesque views on your walk beneath the spectacular craggy peaks of Cradle Mountain. You may wish to endeavour on a bush walk in the National Park on the Dove Lake Circuit (2.5 hrs) where you can immerse yourself in beauty. Learn about native flora and fauna along the way, with highlights including the ballroom forest and lakeside beaches. Spend time exploring the fascinating Wilderness Gallery with the biggest Thylacine display in Tasmania. Later in the afternoon hear about local produce, with wine and cheese tasting, hosted by Cradle Mountain Lodge.
Accommodation: Cradle Mountain Lodge
Meals: Breakfast and Lunch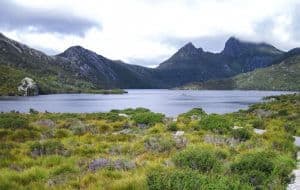 Day 3 - Cradle Mountain - Freycinet Peninsula
After breakfast, leave Cradle Valley for your journey to Launceston. Enjoy an introduction to Launceston before exploring the scenic Cataract Gorge where the Tamar River forces its way through sheer rocky cliffs. Enjoy lunch at an award winning vineyard in the Tamar Valley before continuing to Tasmania's East Coast, with its exceptional beauty, pristine white sandy beaches and granite coastline. Check in to the exclusive and award winning Saffire Luxury Lodge located in the heart of Great Oyster Bay, overlooking the imposing backdrop of the "Hazards" granite mountain range.
Accommodation: Saffire Freycinet (Luxury Suite)
Meals: Breakfast, lunch and dinner
Day 4 - Freycinet Peninsula
Enjoy the many activities on offer at Saffire, including the Tasmanian Devils experience, local wine tour, sightseeing, guided walks, kayaking and mountain biking, or explore Freycinet National Park with your private guide. Take a walk along Friendly Beaches, where white sand meets the stunning orange rocks of the coast, walk up to famous Wineglass Bay lookout or visit Cape Tourville Lighthouse. Don't miss out on the guided tour to a local working oyster farm. Put on your waders and taste freshly shucked Freycinet Pacific oysters in a beautiful setting.
Accommodation: Saffire Freycinet (Luxury Suite)
Meals: Breakfast, lunch and dinner
Day 5 - Freycinet Peninsula - Hobart
Today enjoy a scenic drive down the East coast, passing the seaside villages of Swansea, Triabunna and Orford to the Coal River Valley, and visit the charming village of Richmond with its well preserved colonial architecture. Enjoy lunch at a local vineyard before visiting Bonorong Wildlife Sanctuary, where you can get up close and personal with Tasmanian Devils and other native animals on your private behind the scenes tour. Continue to Hobart and enjoy an introduction to Tasmania's capital city with its engaging history, before checking in to Tasmania's newest luxury accommodation, MACq01, located at Hobart's waterfront.
Accommodation: MACq01 (Premium Waterfront Suite)
Meals: Breakfast and lunch
Day 6 - South West Scenic Flight - MONA
This morning's journey will give you a feel of the extensive wilderness Tasmania has to offer. Board a scenic flight to Tasmania's spectacular and pristine South West Wilderness. Experience the peace and tranquillity of this majestic setting, where Mountain peaks give way to button grass plains that meet the wild Southern Ocean (weather dependent). Upon return, travel to the Museum of Old &New Art (MONA), one of the world's most unique and controversial museums. Enjoy lunch at MONA's flagship restaurant, The Source, before viewing the largest private art collection in Australia with its fascinating blend of ancient and modern art.
Accommodation:  MACq01(Premium Waterfront Suite)
Meals: Breakfast and lunch
Day 7 - Mt Wellington - Hobart Departure
Mt Wellington provides a beautifully imposing backdrop to the city of Hobart. Start your day with a trip up the Mountain in search of stunning views over southern Tasmania. After lunch continue to Hobart airport where your guide will bid you farewell.
Meals: Breakfast and lunch