Image thanks to: Jesse Desjardins
Image thanks to: Jesse Desjardins
Image thanks to: Tourism Tasmania & Sarajayne Lada
Image thanks to: Jesse Desjardins
Image thanks to: Tourism Tasmania & Kathryn Leahy
Image thanks to: Wai Nang Poon
Image thanks to: Tourism Tasmania & Port Arthur Historic Site Management Authority
The Three Capes Track takes in spectacular areas of coastline in the southeast of Tasmania, within the Tasman National Park.
Tasman National Park
is located approximately 90 minutes from Tasmania's capital at the southern end of the Tasman Peninsula. The region is known for its natural beauty, ocean cliffs and views, with the three capes track designed to capitalise on these factors and provide an experience that will truly make an impact. Image thanks to Sean Scott. The Three Capes Track is located at the southern end of the Tasman Peninsula. The
Tasman Peninsula
begins approximately 70 kilometres to the southeast from the centre of Hobart and is an area of approximately 660 square kilometres.
The Three Capes Track experience begins with guests being collected at the Port Arthur Historic Site. Port Arthur is found just over 2 hours drive from Hobart. The track concludes at Fortescue Bay on the east of the Peninsula approximately 30 minutes' drive from the start point at Port Arthur. Image thanks to Wai Nang Poon.
The Three Capes Track is a 46 kilometre, 4-day independent walk where you are met each evening by a host at a well-equipped cabin to rest and rejuvenate for the next day. The track is designed in a 'Y' shape and it was named after the three capes in the area, Cape Raoul, Cape Pillar and Cape Hauy. You'll experience breathtaking scenery, get as close as you dare to huge sea cliffs, look out at an ocean where the next land mass is Antarctica and truly marvel at how spectacular nature is. If experiences can be transformative – the Three Capes Track will definitely change the way you see things.
A unique experience, the Three Capes Track offers walkers a modern bushwalking experience designed to be environmentally sensitive, give visitors the best views, and provide a comfortable but challenging walk. The track can be walked in all seasons and has been designed to highlight the phenomenal views.
Walking the Three Capes Track should be a bucket list item. If you enjoy adventure and the wilderness then you'll really feel at home here.
The walk is accessible to most people with a reasonable level of fitness. The recommendation is that participants be comfortable with walking 4 hours for 4 consecutive days prior to embarking on the walk.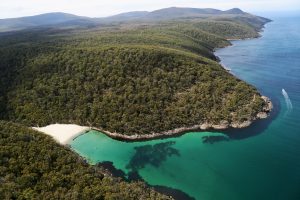 Day 1 – You'll begin the walk with a fantastic and informative custom Pennicott Wilderness Journey cruise. The Cruise Departs Port Arthur Historic Site and takes walkers to Denmans Cove while showing you areas only accessible by boat. Once you reach Denmans Cove you'll have a short 2-hour walk (4 kilometres) to your first night's accommodation at Surveyors Cabin. Image thanks to Jesse Desjardins.
Day 2 – You'll set out to climb Arthur's Peak today and will be rewarded with views of Crescent Bay and further afield to Cape Raoul. On your descent the track opens out into Ellarwey Valley before you dive back into the forest to find Munro Cabin for the evening. Today's walk covers 11 kilometres and takes 3.5-5 hours of walking.
Day 3 – Taking only a day pack today you'll head out to see Tasman Island. There are not enough words to describe the truly exhilarating views you will encounter today. You'll take on The Blade at Cape Pillar and marvel at the power of nature, the wind, and the ocean - it will take your breath away. Image thanks to Tourism Tasmania & Joe Shemesh.
Returning back to Munro cabin you'll collect your things and meander down to Retakunna Cabin through forest and heathland ready to put your feet up and reminisce on your day 3 experience. Day 3 covers 17 kilometres and takes 5-6 hours of walking.
Final Day/Day 4 – You'll set off nice and early to ascend Mount Fortescue and reach the point of Cape Hauy. If you're lucky you'll see fearless rock climbers taking on the famous Totem Pole or other amazing cliffs in the area. To complete your journey, you'll wander down to Fortescue Bay where the track ends and your bus to the starting point awaits. After 14 kilometres and 6-7 hours of final day walking you'll be armed with amazing tales, photos and memories from what truly is one of the best walks in Australia.
The Tree Capes Track walk can be taken at any time of the year. If you're not a keen bushwalker it may pay to book for warmer months, however in Tasmania you are likely to experience any type of weather at any time of the year, so no guarantees can be given! The walk covers 46 kilometres and takes 4 days/3 nights. You are unable to extend the number of nights on the walk as there is a strictly limited number of 48 walkers embarking on the trip each day. As accommodation is provided in the purpose-built cabins along the walk, you are saved from the annoyance of needing to carry a tent or cooking equipment. What you do need to bring is your own meals and snacks for each of the 4 days, water for the first day (there is rainwater available from tanks at the cabins) sleeping gear, appropriate clothing and personal items. The Three Capes Track website has a comprehensive packing list to help walkers prepare. Accommodation on the walk is provided in purpose-built cabins. These environmentally sensitive cabins provide participants with mattresses, drinking water, cooking facilities and for the chillier evenings they even have heating. The Three Capes Track walk is an independent walk with a well-marked and purpose-built track. At each overnight cabin there is a park ranger on hand to welcome you after your day of walking and to answer any questions you may have. The most popular way to get to the Tasman Peninsula and the start of your walk at
Port Arthur
is by driving. Alternatively, you can take a bus with Pennicott Wilderness Journeys who supply a specific bus service for track walkers or one of the local bus companies, Grayline or Tassielink. The Tasman Peninsula has a number of accommodation options if you would like to stay longer after your walk or would like to be in the area before you set off. Accommodation options range from hotel and motel to campgrounds (serviced or basic) as well as many self-contained options. The walking track features artist installations in the form of 'story-seats' were you can take a break and relax while marvelling at the view. Each walker receives a guidebook which contains stories to match your rest stops along the way. The track truly provides a complete experience. The Three Capes Track was opened at the end of 2015. You'll experience some of Tasmania's best landscapes on the Three Capes Track. From Eucalypt woodland to coastal heathlands, you'll see a variety of landscapes along the track and plenty of
wildlife
.
If you have time on your drive to your pickup point why not detour to the Pirates Bay Lookout just before
Eaglehawk Neck
? The views here will whet your appetite for the amazing scenery to come! Image thanks to Tourism Tasmania & Kathryn Leahy.
Port Arthur is the pickup point for your walk and entry fees are included in your track fee, so why not arrive a few hours earlier and explore this magnificent historic site? The Tasman Peninsula also has some amazing natural attractions that you won't see on your walk, like the
Tessellated Pavement
. Image thanks to Tourism Tasmania & Gene Goldberg.
Three Capes Track - Where to Stay
People Who Looked At This Also Viewed...