Image thanks to: Tourism Tasmania & Richard Bennett
Mount Field National Park
Mount Field National Park is located in the southern region of Tasmania towards the west coast. Despite being classified in the south of the state, Mount Field National Park is a 1-hour drive to the northwest of Hobart on the way to the west coast. The National Park can be accessed by a scenic drive through the lovely township of New Norfolk and the Derwent Valley. The park covers an area of nearly 163 square kilometers and is one of Tasmania's most popular and perhaps the most diverse national park.
Located 64 kilometers from Hobart, this park is a fantastic day trip only an hours' drive from the State's capital of Hobart. From Launceston you'll need to travel south first to Hobart and then divert to the northwest to Mount Field, a 245km journey for which you'll need 3 hours 20 minutes of driving time one way.
Mount Field National Park was the first national park created in Tasmania. It offers a range of walks that take visitors through different areas of flora including amazing tarn shelves and easily accessible walking tracks past fantastic waterfalls. The park is a playground for those who like exploring and bushwalking and it is a fantastic day trip area with well-equipped picnic spots, a playground for children and a visitor centre with a café.
Russell Falls is perhaps the most photographed waterfall in Tasmania. The fact that this beautiful waterfall is easily accessible (even to wheelchairs) by just a short 20- minute walk makes this National Park a fantastic accessible attraction for all visitors.
Driving further into the National Park is Lake Dobson, where you can access longer walks within the area, and explore the beautiful Pandani Grove which skirts the edge of Lake Dobson.
Exploring Mount Field National Park really gives visitors a sense of how different Tasmania can be. The differences in altitude really change the flora that thrives and you'll see just how different and changeable the weather can be on higher peaks.
If you are visiting the Hobart area you'll find Mount Field an easy way to see some of Tasmania's wilderness. Mount Field National Park is a great example of the diversity of Tasmania's countryside and lets you access amazing adventure activities such as hiking and even cross-country skiing in the winter months. Image Credit: Tourism Australia & Graham Freeman and Tourism Tasmania & Rick Eaves
To travel here you'll need to purchase a Parks Pass which gives you entry into the National Park. There are a range of options, from daily passes (vehicle up to 8 people or single person passes), holiday passes (up to 8 weeks) and annual passes which can be purchased for entry into a single park or multiple parks within Tasmania.
Most visitors to Mount Field National Park travel by car as there are no direct public transport options to the park. Some tour companies will include Mount Field National Park in their itineraries.
Staying near Mount Field National Park is easy with plenty of options just a little drive away. You can stay in the nearby towns of Westerway, Ellendale or New Norfolk with accommodation ranging from self-contained options, hotel/motel, luxury historic accommodation and caravan parks. If you're interested in camping there are facilities at the entrance to the park and around the area in the small towns.
The most popular activity within Mount Field National Park is to visit Russell Falls. The short, easy walk begins at the Visitor Centre with a track that is designed to be wheel chair accessible and child friendly, ensuring that all visitors are able to experience the gorgeous sight of this waterfall.
The Visitor Centre at the park has a café where visitors can buy food and drinks or you could bring your own picnic to enjoy in the park. Entrance fees apply to all National Parks in Tasmania and Parks Passes can be purchased at the Visitor Centre.
When visiting any National Park in Tasmania you should be well prepared for the weather. Sturdy walking shoes and a raincoat are always advisable. The weather in Tasmania can be variable and in the higher alpine areas, weather can change from one minute to the next. Always seek advice from the Parks and Wildlife Tasmania Officers before taking a walk and follow recommendations to ensure you are well prepared.
Mount Field National Park was created in 1916 but the area around Russell Falls had enjoyed protected status since 1885 when it was declared Tasmania's first nature reserve.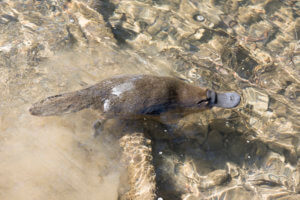 The Mount Field National Park is a fantastic place to view some of Tasmania's special flora and fauna. You'll likely come across many little animals on your walks including wombats, echidnas and platypus, and if you're further into the park you may even see a Tasmanian Devil or Eastern Barred Bandicoots.
The flora in the Mount Field National Park is really spectacular. You'll find eucalyptus temperate rainforest, full of ferns, lichen and incredible funghi. Higher up into the mountain you'll see Pandani, conifers and deciduous beech (fagus) that turn the landscape golden in the autumn months.
Stop in at the local Berry Farm for some great fresh berries and treats.
The small town of New Norfolk is a great place to explore on your way to Mount Field National Park, and keep an eye out for the amazing hops fields of the Derwent Valley.
Mount Field National Park - Where to Stay
The National Park Hotel &…

National Park - Central Highlands

Situated in a national park, this inn is 7.7 mi (12.4 km) from Junee Caves and 18 mi (28.9 km)…

View More

Hamlet Downs Country Accommodation

Fentonbury - Hobart

Situated in a rural location, this hotel is 7.8 mi (12.6 km) from Mount Field National Park and 25.9 mi…

View More
People Who Looked At This Also Viewed...