A tale of craftsmanship, ingenuity and escape
Most people are pretty chuffed when they board The Spirit of Tasmania – and not just because of the $27 bottomless buffet on deck seven. Sailing southwards across the Strait feels like an escape; to the end of the world, or at least, to the end of Australia.
But not all escapes are created equal. If you'd asked James Porter, convict and larrikin, his thoughts on heading to Tassie, you'd hear a different story – complete with vintage expletives. For his is a tale of hardship and heroism; the Aussie kind, where underdogs rule… even if they have a habit of nicking things.
In fact, all James Porter wanted to do in Tasmania was nick off.
He was one of 76 000 thieves and unfortunates sent to Van Diemen's Land in the 1800s. There were no cushy recliners, deluxe cabins or gourmet delights on this southern voyage; crims like him were spirited over the seas in heavy-set wooden sailing ships with names like 'The Indefatigable' – which were usually anything but.
Unlike most convicts, Porter was a verbose and literate sort with a love of the theatre. As a boy in London, he plundered his granny's purse to see shows in Drury Lane, cultivating an early knack for theatrics. A succession of petty crimes shunted him down the ladder of possible punishments until finally he ended up at 'Hell on Earth'; the penal colony at Sarah Island.
This barren sliver of land in the black waters of Macquarie Harbour, West Coast Tasmania, was usually reserved for the wicked, it's location so remote, so treacherous, that escape seemed impossible. And yet, almost one quarter of Sarah Island's inhabitants attempted it. These 'out and outers' rarely succeeded, but even the noose was freedom from their grim existence.
Escape was on the mind of James Porter as he and nine fellow convicts were assigned to build the Frederick. The brig would eventually transport them from Sarah Island to Port Arthur, the hot new penal favourite for floggings and misery. As you can imagine, the task didn't inspire obedience.
On January 10, 1834, the group – led by Porter – subdued the officers, left them ashore with polite provisions, and set off aboard the very brig designed to prolong their imprisonment. They made it all the way to Chile, where the unfinished Frederick sprung a leak, forcing them to row ashore in the ship's tender pretending to be victims of a shipwreck.
The local Governor was suspicious, but let the matter slide for a couple of years while they settled in, traveled abroad, and revelled in their cleverness. His successor was less congenial, and had them arrested and sent back to London, then Hobart. Ho hum.
The punishment for piracy was death. Others before them, like the audacious convict crew who captured the Swallow in Recherche Bay, had been put on trial and hanged for similar offences.
But Porter wasn't about to go down without a fight – and knew the pen was mightier than the fist.
So from a prison cell in Hobart he wrote his story; wooing the public with more than a little poetic license and challenging the charges of mutiny and piracy. After all, they weren't even outside the heads of the harbour when the Frederick was taken! And she wasn't a finished ship. In fact, she was more like a pile of lumber, fabric and instruments, if you think about it.
Without record of the Frederick ever being completed, their outlandish claims held water, and Porter and his piratic posse dodged the noose.
It's no wonder that the capture of the Frederick inspired the longest-running play in Australia; The Ship That Never Was, a daily pantomime that you can see next time you're visiting Strahan on the moody West Coast.
And James Porter? He was shipped to Norfolk Island for penance, rescued some officers when their boat capsized, had his sentence reduced and was eventually sent to Newcastle in 1847. He escaped, and was never heard from again.
Today, people come to Tasmania to escape: the crowds, the heat, the ordinary. While James Porter sought to flee Van Diemen's Land, it was a boat that offered him freedom.
Anyone with a wooden boat knows a thing or two about escapism.
On board, out on the water, there are no traffic jams or bitumen. Things glide not grind, and rather than ticking, time laps. Going off somewhere in a wooden boat to fish, to sit, to think offers an antidote to rush and responsibility, a reflective hobby that has many people hooked.
The founder of The Wooden Boat Centre in Franklin, John Young, says that crafting a boat holds much the same appeal. In an age of speed and cheap materials, wooden boat building is an act of uncommon precision and reverence – a sanctuary for those seeking slow.
Young once likened fiberglass boats to 'Tupperware', in contrast to their soulful wooden counterparts with knots and quirks, history and character. For others, wooden boats just look beaut.
As the biannual Wooden Boat Festival kicks off in Hobart today, a long tradition of craftsmanship, ingenuity and escape lives on.
James Porter built a big wooden brig under duress, then used it to claim his freedom. Entrants in the Wooden Boat Festival Quick & Dirty Boat Building competition show a little less reverence and a lot more enthusiasm in knocking together a vessel in one day that can lap Constitution Dock without sinking. And for everyone else, wooden boats represent intense creativity and craftsmanship; things of beauty made from scratch that can take you just about anywhere.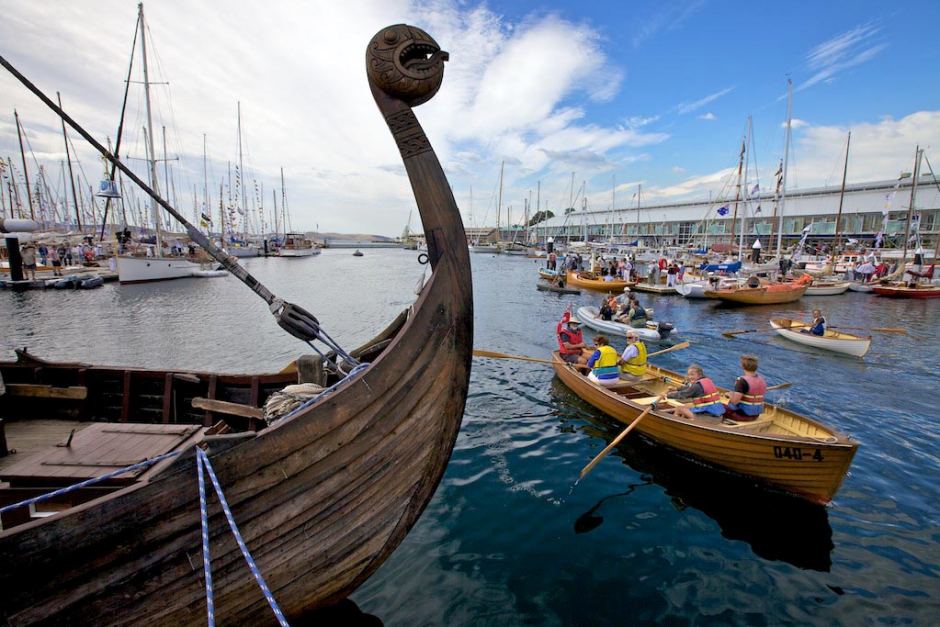 This package is perfect for those who love everything maritime! This 7 Day Wooden Boat package allows you to admire classic and modern boats, partake in cruises or a charter and take in some of Tasmania's most beautiful locations!