Image thanks to: Great Walks of Australia
Image thanks to: Tourism Tasmania & Dan Fellow
Image thanks to: Tourism Tasmania & Supplied Courtesy of Hadley's Orient Hotel
Image thanks to: Adam Gibson
Image thanks to: Tourism Tasmania & Andrew McIntosh
Image thanks to: Tourism Tasmania & Tom Hedley
Image thanks to: Tourism Tasmania & Lambos Pavlides
Image thanks to: Tourism Tasmania & Mark Lane
Image thanks to: Great Walks of Australia
Image thanks to: Huon eco retreat
Image thanks to: Tourism Tasmania & Beachside Retreat West Inlet
Image thanks to: Tourism Tasmania & Rob Burnett
Image thanks to: Tourism Tasmania & Chris Crerar
The Tasmanian island is rich in outdoor activities. From the glacial tarns of the Alpine Highlands to the towering dolerite cliffs of South Bruny National Park, there is jaw-dropping nature all around. But exploring the outdoors can be tiring, so it's always nice to warm your bones beside the fire after a day in the chill. And that's why Tasmania is perfect for luxury accommodations.
Classical music has a term for it -- Sturm und Drang. It's the idea that the loud and rhythmic parts of a song cannot be enjoyed without going through a quieter lull beforehand. Each part of the song, the quietness and the loudness, accentuates the other to make every second of the song profound. And that's the idea behind luxury accommodations in Tasmania.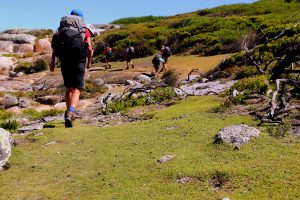 After hiking to the base of a 100-metre waterfall, you get to come back to a luxury accommodation with what feels like the world's most comfortable beds and warmest robes. After being in the outdoors, steam showers feel even more indulgent and vital. Each part of your luxury Tasmanian experience -- from the thundering natural surrounds to your quiet and cozy luxury accommodation -- accentuates the other to enhance your trip.
Depending on your tastes, luxuriant experiences in Tassie can range from an elegant country manor with four poster beds and charming decor, all the way to world class eco-retreats with celebrity chefs and staff to cater to your every need.  Regardless of which experience you chooose, you can be guaranteed stunning views, delectable cuisine, and memories that will last a lifetime.