The South Coast Track Guided Trek
9 days - Guided Walk Package
Day 1 - Hobart to Cox's Bight (Point Eric) Via Melaleuca
A compulsory pre-trip briefing is held at 2pm the day before this trip commences. More details will be provided upon booking.
Our adventure begins early today as we are transferred to Cambridge Airport.  The scenic flight into Melaleuca in the remote south western corner of Tasmania is a definite trip highlight. After a quick look around we begin walking to the coastline and today's destination, Point Eric. On arrival at our water-front campsite we pitch our tents, collect drinking water and settle in with a hot drink and time for a game of beach cricket, a swim or just a wander along the beach before dinner.
Walking Distance 12km | Walking Time 3-4 hours
Day 2 - Cox's Bight (Point Eric) to Louisa Creek
After breakfast and packing up camp we head out along the beach. Tides dictate this morning's timing as we skirt around a rocky headland before climbing up onto Sedge and Melaleuca clad plains that draw us inland. There are a number of suitable lunch spots where the tannin stained fresh water trickles through the ancient quartzite hills. We have a short but steep climb and descent over Red Point Hills and enjoy wonderful panoramic views from the top – today's high point. In the afternoon we make our muddy way toward Louisa Creek where, depending upon our timing, we may camp beneath the towering trees that border this beautiful watercourse.
Walking Distance 11km | Walking Time 5-7 hours
Day 3 - Louisa Creek (Louisa Bay) to Louisa River
Today's destination is Louisa River which flows close by the base of the impressive Ironbound Range. If timing and conditions are favourable we can enjoy a side trip to the stunning Louisa Bay. Here we can explore, swim and enjoy morning tea before continuing our journey towards the looming Ironbound Range. Our night's camp is located in the wonderful eucalypt forest that lines the Louisa River. It is a stunning campsite that sets us up for the following day's early start. The broad river is a favourite swimming spot if the afternoon is warm and a major obstacle after rainfall.
Walking Distance 6km | Walking Time 2 hours
Day 4 - Louisa River to Little Deadman's Beach via the Ironbounds
The mighty Ironbounds! Our high point is almost a thousand metres above where we start and finish today. Your guides will have breakfast ready in the predawn darkness and be busy to get the group on the track by sun-up. We climb up the exposed western slopes, over open ground and vegetation stunted by the prevailing westerlies. In fine weather there are plenty of great rest spots where the views are spectacular beneath us. From the top of the range we may be lucky enough to see the Eastern and Western Arthur Ranges including Federation Peak, through to Mount Anne and all the way to formidable South West Cape and Maatsuyker Island. The broad top of the Ironbound Range commonly receives the harshest conditions known in Tassie and snowfalls, gale force winds and pelting sleet are never unexpected.
This is a long and demanding day and the top is not even half way, the slippery and muddy descent is through a tangle of lush rainforest which in turn becomes thick Teatree bush as the last few kilometres follow the coastline to a very welcome sight – our campsite at Little Deadman's Bay.
Walking Distance 13km | Walking Time 7-10 hours
Day 5 - Rest day at Little Deadman's Bay
Today is the only full rest day on the tour and the only place along the track where an open fire is permitted. It's a wonderful treat to sit by the glowing embers, read a book, play some cards and let your body relax and recover from the last few days' activity.  Your guides will spend some time today re-supplying from our nearby food-drop.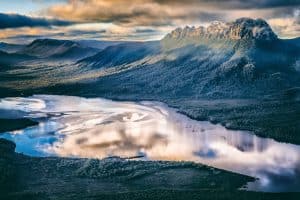 Day 6 - Little Deadman's Bay to Osmiridium Beach
Feeling refreshed, we look forward to tackling some of the track's best mud holes, a challenging rowboat lagoon crossing and walking along the coast's longest beach. We trek over broad sand dunes, wade across watercourses and climb over headlands letting no obstacles stand in our way!  There are a few campsite choices for tonight and your guide's will decide where to stay based on the availability of fresh water, the fitness of the group members and their own personal favourite spots where they may know special sights and hidden points of interest.
Walking Distance 11km | Walking Time 4-5 hours
Day 7 - Osmiridium Beach to Granite Beach
This is a favourite day for many people as we wander through wet sclerophyll forest from beach to beach. Today's short distance means a leisurely lunch with time to wriggle your toes in the sand, swim in the ocean, search for Devonian Fossils, or just sit back and relax. A favourite lunch spot is Surprise Beach, which is just a short distance, if not a little steep, to our afternoons destination Granite Beach. As we descend onto this bay our eyes are drawn out to the incredible fluted dolerite columns of South Cape. At the eastern end of the bay our campsite is perched above the cliffs beneath the tea tree and eucalypt canopy.  Our water source here cascades off the cliffs onto the beach to make a wonderful, refreshing shower.
Walking Distance 10km | Walking Time 4-5 hours
Day 8 - Granite Beach to South Cape Rivulet
A big day in the hills – We get an early start to make our way over the South Cape Range to our final night's camp at South Cape Rivulet. We begin with a lengthy climb through the moist forest to the day's highpoint about 500m above sea level offering beautiful views back along the coast as far as South West Cape if we're lucky and into the mountains of Pindar's Peak, Mount LaPerouse and Mount Lilateah. This is a deceptive day with our high point being the first of 7 hills that we climb and descend before stepping into the sand of South Cape Rivulet where we cross the sometimes deep, outlet of the lagoon to our campsite. This is a wonderful day of wet and dry forests, buttongrass plains, tea tree swamps and dazzling coastal views. The beach at our camp is one of the best along the South Coast for a swim and not many people pass through without enjoying one.
Walking Distance 8Km | Walking Time 6-8 hours
Day 9 - South Cape Rivulet to Cockle Creek
Today is a gentle end to an amazing trip. The morning has us strolling along a couple of picturesque beaches and then up over a headland. The top of the cliffs is a perfect place for a rest while the waves below crash at the base of our lookout. Our 9 day trek concludes at Cockle Creek – this quiet blissful bay has a couple of holiday homes, an information shelter and our bus & driver make a welcoming site waiting to take the group to Hobart. We usually drop you at your accommodation in Hobart at approx 5pm & after a shower and some clean clothes it's common for the group to get together, to enjoy dinner at one of the local restaurants. An astonishing trip that will truly stay with you for some time to come.
Walking Distance 11km | Walking Time 3-4 hours