10 Day Tassie Family Wilderness and Wildlife Package
10 days - Self Drive Tour Package
Day 1 Arrive in Hobart and drive to kunanyi/Mt Wellington lookout
Tasmania's lively capital, Hobart retains an old town salty-air feel that draws visitors flocking here in numbers not seen before.  This vibrant city offers plenty of urban sites, as well as proximity to gorgeous natural surroundings and a mountain summit, Mt Wellington. Salamanca markets are a must, along with MONA art museum,  plus make sure the family gets some fish and chips from the wharf.
Drive up to the summit kunanyi/Mt Wellington rising 1270 metres above sea level to experience spectacular views over Hobart and beyond. There are lots of short walks around the lookout and sometimes snow!
Bonorong is a Sanctuary for wildlife run by a passionate team of like-minded people located 30 minutes north of Hobart is home to many animals, including Tasmanian devils, wombats, echidnas, birds, quolls and more.
Experience:  Bonorong Wildlife Sanctuary Entry
Stay: Bay Hotel Apartments – 2 Bedroom apartment
Day 2 - Hobart - Self-drive tour around Bruny Island 
Bruny Island is a small island accessed only by ferry off the south-eastern coast of Tasmania and is home to breathtaking and diverse landscapes and stunning wildlife. Including the white wallaby.
North Bruny is defined by open pastures and light bushland, while the south is home to the national park and large rainforest areas. Once lit by Australia's second-oldest lighthouse, a new modern light shines to lead you back to a place that always feels like home.
Stay: Bay Hotel Apartments – 2 Bedroom apartment
Day 3 Hobart - Explore the Huon Valley and the Tahune Airwalk
With 80% of the island's apple production, the Huon Valley gives Tasmania its affectionate nickname is "The Apple Isle". With a preponderance of gourmet food and drink, combined with stunning scenery, this is a fantastic day trip from Hobart or a delightful weekend getaway.
Only 45 minutes south from Hobart, you c find yourself walking among the treetops at a state-of-the-art air-walk.  While you are there, visit Hastings caves or swim in the natural hot springs. You may even spot a platypus. This southern region is ideal for a family road trip, with many captivating sights, towns, restaurants, orchards and family fun along the way.
Experience: Tahune Adventures – Airwalk Day Pass
Stay: Bay Hotel Apartments – 2 Bedroom apartment
Day 4- Make your way to Bicheno and world-class Freycinet Peninsula
Leaving Hobart you will experience one of Australia's greatest road trips on the Great Eastern Drive to Bicheno.  Stop off at Spiky Bridge in Richmond for some history, Kates Berry Farm for the produce and one of the many vineyards for nibbles and wine tasting.
Bicheno is a wonderful little fishing and holiday village on the east coast of Tasmania near the Bay of Fires, Freycinet National Park and the Douglas-Apsley National Park. It's known for its laid-back lifestyle, fresh seafood, incredible diving, friendly butcher and baker. And no visit to this seaside town is complete without a stop at the Bicheno blowhole.
Penguins Evening Tour offers a rare and thrilling chance to visit a private penguin rookery. The rookery is a special place where you can witness the unique behaviours of little penguins in their natural environment. Upon arriving at the rookery you can can be a part of their journey home, from emerging from the ocean to entering the burrow.
Experience: Penguins Evening Tour
Stay: Beachfront Bicheno – Poolside Family Room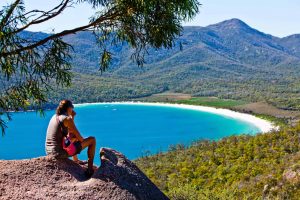 Day 5 - Bicheno blow hole and Wineglass bay
Visit Bicheno blowhole
Located at the south end of Bicheno, spend some time near this curious and playful geological formation before heading to one of Bicheno's picturesque white sandy beaches.
Drive to Wineglass Bay & Freycinet Peninsula
Meet the top of your Tassie bucket list. Wineglass Bay is part of the Freycinet Peninsula, an outcrop of wild, pristine coast land on Tasmania's east coast. Encompassed within the Freycinet National Park, it is considered one of the top ten beaches in the world. Nestled in the iconic Hazards range and bordered with pink granite peaks, Wineglass Bay is the most photographed view in the entirety of our island state.
Stay: Beachfront Bicheno – Poolside Family Room
Day 6 – Make your way to Cradle Mountain
Drive to Cradle Mountain. The quickest route cuts inland at the Elephant Pass to St Marys  where you will drive up the Fingal Valley, and then cut off through the backroads to Evandale a fun and historical town famous for its Penny Farthing Championship. Cut through farmland and history towns like Deloraine and Longford for lunch or a fun and interesting  stop overs.
Bay of Fires add on
If you have time you can take the longer route to Bay of Fires
Home to what is considered one of the most beautiful beaches in the world, the Bay of Fires, this popular conservation reserve is actually a string of breathtakingly beautiful beaches, interspersed by lagoons and rocky bluffs. Famous for the orange lichen-covered granite boulders, combined with the powder-white sand and turquoise waters, this ideal setting is a spectacular place to soak in the sensational views and experience a dreamlike walk along the beach.
Stay: Discovery Parks Cradle Mountain  – Standard Cabin
Day 7– Explore Cradle Mountain and Devils in the Dark
Waking up its time to discover Dove lake. Set at the feet of Cradle Mountain, Dove lake is an amazing lake to walk around taking only a few hours.
Calm and serene, pleasant and rocky, it would be easy to assume that "Cradle Mountain" takes its name from a baby's bed. But locals say no – it's derived from the mountain's resemblance to a miner's cradle. This unique shape creates a dramatic vista that's impossible to miss as visitors walk along the shores of the many lakes, river gorges and waterfalls that decorate the surrounding areas. And never fear, the chances of spotting a wombat is extremely high.
That evening, see the Tassie Devil up close on your night feeding tour. The After Dark Feeding Tour provides an unforgettable experience, seeing these extraordinary animals in 'action' each evening.
Experience: Devils@Cradle After Dark Feeding Presentation
Stay: Discovery Parks Cradle Mountain  – Standard Cabin
Day 8 – Taste your way to Launceston
On your way to Launceston go through the town of Sheffield and see the murals created by talented artists.  Stretch your legs at Alum Cliffs and get more views of the Great Western Tiers. Take the longer way via Mole Creek to check out the amazing Caves & enjoy some local delights such as Honey and Salmon on the Tasting Trail in the Tamar valley.
Launceston is simultaneously lively and laid-back, and finds itself conveniently located close to the Tamar Valley Wine Trail. From gorgeous natural beauty to a charming, traditional atmosphere, this city will please a variety of travellers looking for a place to step back and breathe some of the freshest air on planet Earth. Nature and adventure lovers alike will not be disappointed with all this region has to offer.
Stay: Elphin Motel & Apartments – 2 Bedroom
Day 9 – Explore Launceston
Visit Cataract Gorge
Cataract Gorge is so close to Launceston – taking only a handful of minutes to reach from the city centre by car (or considering taking a comfortable stroll for 20 to 30 minutes), meaning you can easily pass a leisurely morning in town and then experience the scenic splendour of the Gorge.  For those into hiking, swimming, breathing in fresh air and experiencing majestic views, this is the place to be. Take a ride on the Gorge Scenic Chairlift for panoramic views of the area. Be sure to bring  your camera to capture some of the fantastic scenery you see from this unique vantage point before lunch.
Seahorse World Tour
Our working seahorse farm gives you unique access to these magical creatures. An educational tour will lead you through The Cave of the Seahorse, working Seahorse Farm and the Wonders of the Southern Ocean Aquarium, ending with the once-in-a-lifetime opportunity to hold a beautiful seahorse in the palm of your hand!
Platypus House
Nestled on the water in the beautiful Tamar Valley, Platypus House offers a once in a lifetime opportunity to watch live Tasmanian Platypuses and Echidnas in daylight conditions and undercover.
Experience: Platypus House Entry
Experience: Seahorse World Entry
Stay: Elphin Motel & Apartments – 2 Bedroom
Day 10 – Depart Launceston
Drop your car off at Launceston Airport and fly home feeling happy. 😉