Image thanks to: Jack Mohr Photography
Image thanks to: Tourism Tasmania & Jonathan Wherrett
Image thanks to: Jack Mohr Photography
Image thanks to: Wai Nang Poon
Image thanks to: Tourism Tasmania & Kathryn Leahy
Image thanks to: Kathryn Leahy
Port Arthur – Things to Do
One of the most well-known and iconic destinations in Tasmania is the Port Arthur UNESCO World Heritage Site.  This sprawling complex of 30 historic 18th and 19th-century buildings aside the rocky cliffs along the Tasman Sea contains a dark past that continues to fascinate visitors to this day. 
Being transported to Port Arthur in 1837 required a conviction for any number of crimes of the day, including petty theft, juvenile delinquency, violence, political unrest, and even concocted offences leading one to a lifetime of hardship as penance and as a resource to the British Empire's growing workforce.
Originally a dockyard and granary, Port Arthur held many secrets as inmates suffered various forms of torture and submission. What went on here in daily prison life is detailed in the onsite Complex Museum, as well as in the interesting Interpretive Center to help you understand the significance of this Tasmanian site to Australia's past.
Image thanks to: Tourism Tasmania & Port Arthur Historic Site Management Authority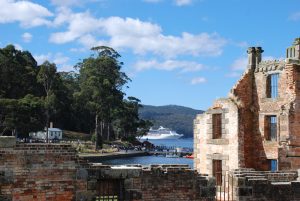 Despite its dark history, there is a sense of serenity here with plenty of outdoor space for quiet reflection. Many visitors explore the coastline cliff walks, lawns, gardens and seaside views.
Extensive hiking trails, lookout areas, convict-built stone walls and natural wonders such as the Remarkable Cave, are also attractions. A short boat ride to the Isle of the Dead as the original convict cemetery is included with most guided tours. Port Puer, the historic location of the old boy's prison, can be seen from Carnarvon Bay on tour boats passing the dockyards as well.
A highlight not to miss is the Lavender Farm and gift shop; a truly delightful retreat in your day, rich with the aroma of relaxing lavender where in the adjoining cafe you may take a delicious break, enjoying lavender-graced hot and cold drinks, cakes and menu items designed to lure the senses. Later, if you are an avid fan of ghost stories there is the entertaining, lantern-led, evening Ghost Tour.
These are just a few of the many things to see and do in Port Arthur where lasting impressions evoke a well-preserved glimpse of a long ago era that essentially shaped the Australia of today. Image thanks to: Supplied Courtesy of Port Arthur Historic Site
There are many tour operators who will package your trip to Port Arthur, either for a guided day trip or a few day's stay over, which includes transportation and lodging if you choose. On your own, you can reach Port Arthur by car, van or motorbike. There are also regularly scheduled ferry services from Hobart with narration on board as you traverse the sea en-route to Port Arthur, which is 1.5 hour's drive on the Arthur Highway from the capital.
Site entry tickets are valid for 2 consecutive days and include an Introductory Guided Walking Tour, Harbour Cruise, access to the Museum, Convict Study Center and Interpretation Gallery and the site of the Dockyard. Image thanks to: Supplied Courtesy of Port Arthur Historic Site.
Hiking trails abound and are popular with many who come to experience the nature here along the coast. Pirate's Bay Lookout is a favourite spot for photography buffs. If you have children or just adore animals, take a trip to the nearby Unzoo to see Tasmanian Devils--the famed Australian characters of cartoons and local tales--in their own habitat.
Port Arthur is more than just a historic and eerily enchanting place to visit though--located on the coast of the Tasman Peninsula as it is, nature walks along the rugged cliffside are a must-do. Explorers will love the aptly named Remarkable Cave, with its spectacular scenery.
Fortescue Bay, with its white-sand beach and heavily forested hills, is a popular jumping off point for bushwalks, kayaking adventures, and diving--and if you want to stick around, Banksia campground offers 24 shaded campsites. For jaw-dropping views, hike around Cape Raoul--a comfortable 5-hour walk--to really take in the beauty of the Tasman Peninsula, as well as Bruny Island.  Another walk to consider would be Waterfall Bay, which  offers another pleasant, easy-grade stroll with expansive ocean views.
Within Tasman National Park, visitors can check out Tasmans Arch, a natural bridge built by Mother Nature into the seaside cliffs, and Devil's Kitchen--a deep trench carved by the Tasman Sea herself, from a coastal overlook. Pirates Bay Drive is a popular scenic route (just a few minutes longer than the direct route), to Eaglehawk Neck.
This small town, affectionately nicknamed "The Neck" by locals, is a narrow 400-metre-long land connection between the Tasman Peninsula and the Forestier Peninsula. This thin strip of land was once guarded by the "Dog Line", which is pretty much what it implies: a group of dogs chained together, preventing convicts from escaping Port Arthur's notorious prison site. A sculpture now commemorates this once vicious barricade.
Visitors will also discover a fair share of oyster shacks, where they can sample the local tasty delights along with a nice Tassie wine. To delve further into local produce, visit a farm gate, where fresh produce abounds far and wide. Chocoholics can get their fix here too: Port Arthur is home to local chocolate shops--The Federation Chocolate Factory being the first on most lists-- that are renowned for their high-quality, melt-in-your-mouth products.
These are just a few of the many things to see and experience on a trip to Port Arthur. Image thanks to: Paul Hoelen.
Port Arthur - Where to Stay
People Who Looked At This Also Viewed...