Image thanks to: Tourism Tasmania & Kathryn Leahy
Image thanks to: Tourism Tasmania & Geoff Murray
Image thanks to: -small_lg
Image thanks to: Samuel Shelley
Walls of Jerusalem National Park
The Walls of Jerusalem National Park is a living testament to Tasmania's commitment to preservation. You can find this park high on the Central Plateau and it is marked by endemic conifer forests, windy plateaus and dolerite peaks. There are spectacular moraines, tarns and lakes scattered throughout this incredibly rugged stretch of land.
This park cannot be accessed by car. In fact, there are very few hiking trails beyond the muddy track that brings you into the park from a dirt road. Explorers of this park must be self-sufficient and well-equipped for Tasmania's rapidly changing weather. In fact, the exposure experienced by hikers throughout this Alpine Park makes them more vulnerable to turns of weather.
The Walls of Jerusalem National Park is in the center of the Tasmanian island on its central plateau. You can find a carpark on the side of the dirt road that takes you to Lake Rowallen. The park's muddy entrance trail begins here. You'll walk through sclerophyll forest before ascending into the parks Alpine areas at Herods Gate. Following the track from here will take you to Dixons Kingdom but tracks are poorly maintained or nonexistent from there. Image Credit: Tourism Tasmania & Geoff Murray
Size
This national park is 518 km² of land that has not been touched by modern life. Only the most intrepid bushwalkers enter this protected area and they must come well prepared. bushwalkers must carry a tent, fuel stove, warm clothes protective from the rain, a warm sleeping bag, a map and compass to navigate and survive this harsh landscape. There are a few huts throughout the park, but they are poorly maintained and only provide shelter in emergency situations.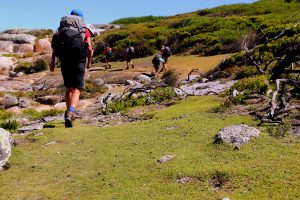 You'll only find extreme hiking and cross-country skiing in this park beyond Dixons Kingdom. Even the most experienced hiker can be thrown off inside this park due to an abundance of Ironstone. Ironstone has been known to throw off the needle of a compass and can send nature walkers wayward. It is highly advisable to hire a nature guide when entering this national park beyond Dixons Kingdom.
Geological Features, Environment and Climate
This Alpine region is marked by moraines. You can see where glaciers carved their way through the central plateau of Tasmania by these intriguing formations. Rocks and sediments carried by the glaciers have collected to create these outstanding Alpine ridges.
Glaciers have also cut deep mountain lakes and tarns throughout the area. A tarn is a small mountain lake, and you're likely to run across one after navigating your self up and over moraines in the area.
The endemic conifer forests still stand within this national park, but most of the trees were lost in a wildfire in the 1960's. In fact, many of the plants in this Alpine region are incredibly susceptible to fire which requires a ban on campfires. That's why you'll only find pencil pine forests in fire-protected areas inside the Walls of Jerusalem National Park. You'll have to pack your own fuel stove.
This national park features a cool temperate climate. The temperatures don't ever tend to get too hot. In fact, they stay relatively cool and comfortable all year round. But don't let the average temperatures fool you. Being exposed on the central plateau of Tasmania means being exposed to unpredictable weather that can change quickly. Always prepare for precipitation and high winds.
Facilities and Camping
The landscape in this national park is incredibly sensitive to fire. Campfires are outlawed and the Walls of Jerusalem National Park is a fuel stove only area.
Huts within the park are small, poorly maintained and will only suffice in case of emergency. It is best to pack your own durable tent with a warm sleeping bag. You can find a camping platform and primitive toilet at Wild Dog Creek. Image Credit: Tourism Tasmania & Alice Hansen and Tourism Tasmania & Andrew McIntosh
Tectonic activity drove up the dolerite peaks inside the park more than 150 million years ago. Pleistocene glaciers did the rest of the work by carving out the beautiful alpine lakes and leaving behind moraines. Now the landscape is covered in pencil pine and endemic conifer forests, though much of the endemic trees were lost in a fire in the early 1960's.
The park was named the Walls of Jerusalem by surveyor James Scott in 1849. He also named some of the park's most striking features with biblical allusions such as Herods Gate, Pool of Siloam, the Wailing Wall and Ephraims Gate.
Walls of Jerusalem National Park - What to do
Walls of Jerusalem National Park - Where to Stay
People Who Looked At This Also Viewed...