Image thanks to: Tourism Tasmania & Rob Burnett
Image thanks to: Tourism Tasmania & Warren Steptoe
Image thanks to: Tourism Tasmania & Rob Burnett
Image thanks to: Tourism Northern Tasmania & Chris Crerar
Image thanks to: Tourism Tasmania & Rob Burnett
Image thanks to: Tourism Tasmania & Rob Burnett
Image thanks to: Tourism Tasmania & Rob Burnett
Image thanks to: Tourism Australia & Graham Freeman
Campbell town is the meeting place for northern and southern Tasmanians. Perhaps you live near Cataract Gorge in Launceston and your friend lives in Hobart. Campbell town serves as the perfect meeting point halfway between the two. It's also a great place for Tasmanian conferences as the town sits right on the Heritage Highway in between two of the island's biggest cities. Image credit: Tourism Tasmania & Rob Burnett
As a popular roadside destination, Campbell Town has an array of amenities. It's also a beautiful place to stop for a picnic on your drive to the other side of the island. The banks of the Elizabeth River serve as a beautiful backdrop for a relaxing pit stop. But if you stop for a picnic, just be prepared to be impressed with the town's historical buildings.
Campbell town is the most central population center between Launceston and Hobart. It is 68 kilometers south of Launceston and 134 kilometers north of Hobart. This central town is also easily accessible from Devonport which sits 149 kilometers to the northwest.
A Town Steeped In History
The antique and specialty shops in town are perfectly set against a backdrop of jaw-dropping colonial buildings. Sitting right on the banks of the Elizabeth River, Campbell Town has served as a halfway meeting point since the early 1800s. It remains relatively unchanged today. In fact, the town is so steeped in history that the river is named after Governor Lachlan Macquarie's wife during an 1821 visit. Undoubtedly, the couple were travelling between Hobart and Launceston.
Campbell Town is a poignant reminder of Tasmania's dark past. A self-guided walk on the Convict Brick Trail down the town's High Street illuminates a dark history of convicts building roads, bridges and houses for aristocrats back in 1800s. The fruits of their labour can still be seen in Campbell Town today as its colonial buildings are impressively preserved.
The Campbell Town Agricultural Show began back in 1838. It has not stopped since. It is the longest-running agricultural show in all of Australia and it draws tourists by the hundreds. Image credit: Tourism Tasmania & Rob Burnett
And while Campbell Town is steeped in history, it has built incredibly modern infrastructure for the passing traffic. You can stop for a coffee, a hot meal or a wash on your way across the island. Visit the Museum and don't be afraid to pop into one of the towns many antique stores along the way.
Passersby, Businesspeople and History Lovers
Campbell Town has been a central meeting point for Tasmania's entire history. It's no wonder that you'll find plenty of passersby in town on their way to another destination. You'll also bump into plenty of business people as they attend conferences in this central meeting point. But the town is worth more than just a pitstop during a drive across Tasmania.
History lovers flock to Campbell Town to enjoy the colonial buildings and the informative Convict Brick Trail. And you'll find plenty of couples "antique-ing" in Campbell Town during the weekends. It's certainly a town where you'll find an abundance of old and new.
You'll find plenty of accommodations on the main road that runs through Campbell Town. They range from cottages to hotels, and you can find short- or long-stay accommodations.
Campbell Town is home to the oldest bridge on the National Highway. The convict-built Red Bridge was erected back in the 1830s and is remarkably beautiful. It is a well preserved and unique example of early Australian stonework and it's covered with timber. Image credit: Tourism Tasmania & Rob Burnett
The convict-built Foxhunters Return has not changed since it was built back in 1833. It was once called the finest and most sustainable hotel building of the late colonial period in Australia. You'll find that all of its outbuildings are original and its cellars are open to the public. The cellars, on the banks of the Elizabeth River, are incredibly beautiful with red arches and stone walls. It is now known as The Book Seller and opens to the public every day.
You'll find plenty to eat on the Midland Highway cutting through the middle of town, including local cafés, diners, bakeries and big-name fast food chains.  There are heaps of options for a quick bite or a relaxing meal.
Campbell Town was originally a garrison town. One of four, these towns linked Hobart and Launceston in Tasmania's early days. Campbell Town kept two to three soldiers stationed in the garrison town at any given time. Eventually, the soldiers were replaced by convict police who patrolled the nearby surroundings for escaped convicts.
The town's infrastructure was almost entirely built by convicts. By the mid-1830s, free settlers had established the area and built a courthouse, police house, hotels and inns. Agriculture was the main source of income and many farmers produced wool. Now Campbell Town serves as a commercial stopping point for travelers across the Tasmanian island. Image credit: Tourism Tasmania & Rob Burnett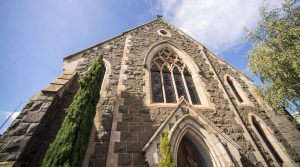 Campbell Town features a warm and temperate climate. The pleasant temperatures are only interrupted by wind and rain. And as the temperature drops in the winter, the rainfall increases.
Start the Convict Brick Trail at the Red Bridge on the outskirts of town. You'll be able to experience all of the town's colonial architecture during an afternoon.
The Book Cellar is a used bookstore on the banks of the Elizabeth River. It is set in the cellars of The Foxhunters Return and features jaw-dropping architecture. Image credit: Tourism Northern Tasmania & Chris Crerar
Grab your fishing pole and head east out of town to find Lake Leake for some of Tasmania's best trout fishing. If you keep heading east, you'll eventually run into the beautiful Freycinet National Park.
Campbell Town - Where to Stay
People Who Looked At This Also Viewed...